DEPARTMENT OF LIFELONG LEARNING AND EXTENSION (DLLE)
In 1960 the Kothari Commission first articulated the concept of Extension and the Trinity of Teaching Research and Extension.
In 1977 UGC first incorporated the extension dimension into its policy statement for Higher Education.
Objectives

of our college DLLE
To sensitize the students and teachers to the socio –cultural realities and problems of the people through field experiences.
To create awareness on social issues.
To increase skills for employment and self employment.
To improve quality of life of individuals and families and achieve optimum human resource development.
Director of DLLE , University of Mumbai.
Extension Work Field Coordinator appointed by University of Mumbai.
Extension Work Teachers of college.
Student Managers (One For Every 25extension work students)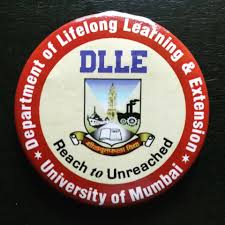 They attend and organize training programs, arrange field visits, assess project reports, supervise students and student managers.
Assist and supervise the training, Carryout field visits to the college and the community, Assess the Project Reports, Evaluation and smooth conduct of Extension Work.
PEC-Population Education Club
CP-Career Project
APY-Annapurna Yojana
SWS-Status of Women in Society